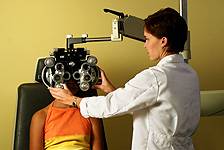 Atkinson Eye Care is a is a busy and growing practice. We feel that we have an office culture that is second to none. We are a cohesive team of caring individuals, value our employees greatly and are flattered anytime someone applies to our practice.
We are interested in motivated individuals that are looking for long-term employment in a field that can become very much a career.

Positions Available:
Receptionist:
Our growing practice is seeking a receptionist that is looking for a rewarding job in a friendly yet professional environment. Our team seeks to add a candidate that looks to go the extra mile in building a positive experience, and is able to multitask and learn about the exciting world of eye care. Don't wear glasses? Don't worry, we do not discriminate against people with 2020 vision (Although we may try and convince you to get a pair of computer glasses!)
Optician/ Optometric Technician / Ophthalmic Technician:
Private established optometric office in Algonquin is looking for full-time Optician and Optometric Technician. Full-time position with benefits available.
Preferred candidates should have at least 2 years experience working in an optical or optometry or ophthalmology office, knowledge of vision insurance plans is a must, and strong computer skills (Electronic Health Records).
The ideal candidate is friendly and passionate about customer service. Our office caters to a loyal patient base that demands quality, knowledge, friendliness, and professionalism. Come join our team of close-knit associates at a wonderful place to work.
Resumes with Cover Letters can be emailed to aec@atkinsoneyecare.comcastbiz.net or call Atkinson Eye Care 847-854-5700